Export limitation for SUN2000 inverters via FusionSolar App
This document describes the steps needed to be followed in order to setup the export limitation on SUN2000 inverters.
Prerequisites:
Smart Meter is mandatory to be connected on inverter's COM port.
Add the Smart Meter into inverter's menu via FusionSolar application (Device Maintenance > Add Device > Select the supported power meter from list (only specific smart meters can be used in export limitation scenario) - you can find on the last pages of this documents compatibility between inverters and smart meters.
Step 1:
Login with Fusion Solar application as an Installer (default password is 00000a) > Power Adjustment tab > Grid-tied point control:
Step 2:
Grid-tied point control > Active Power > Control Mode > Choose the Control mode based on the limitation requested by the grid operator:
Unlimited - Inverter output power is not limited. The inverter can export unlimited power to the grid.
Grid connected with zero power - The output power of inverter is supplied only to the local load, but not to the power grid.
Inverter supplies power limited based on the setting of Maximum grid feed-in power to the power grid.
Closed-loop controller:
if there is only one SUN2000 in the installation, set the closed-loop controller only to Inverter.
if multiple SUN2000s are cascaded, set this parameter to S-Dongle/Smartlogger.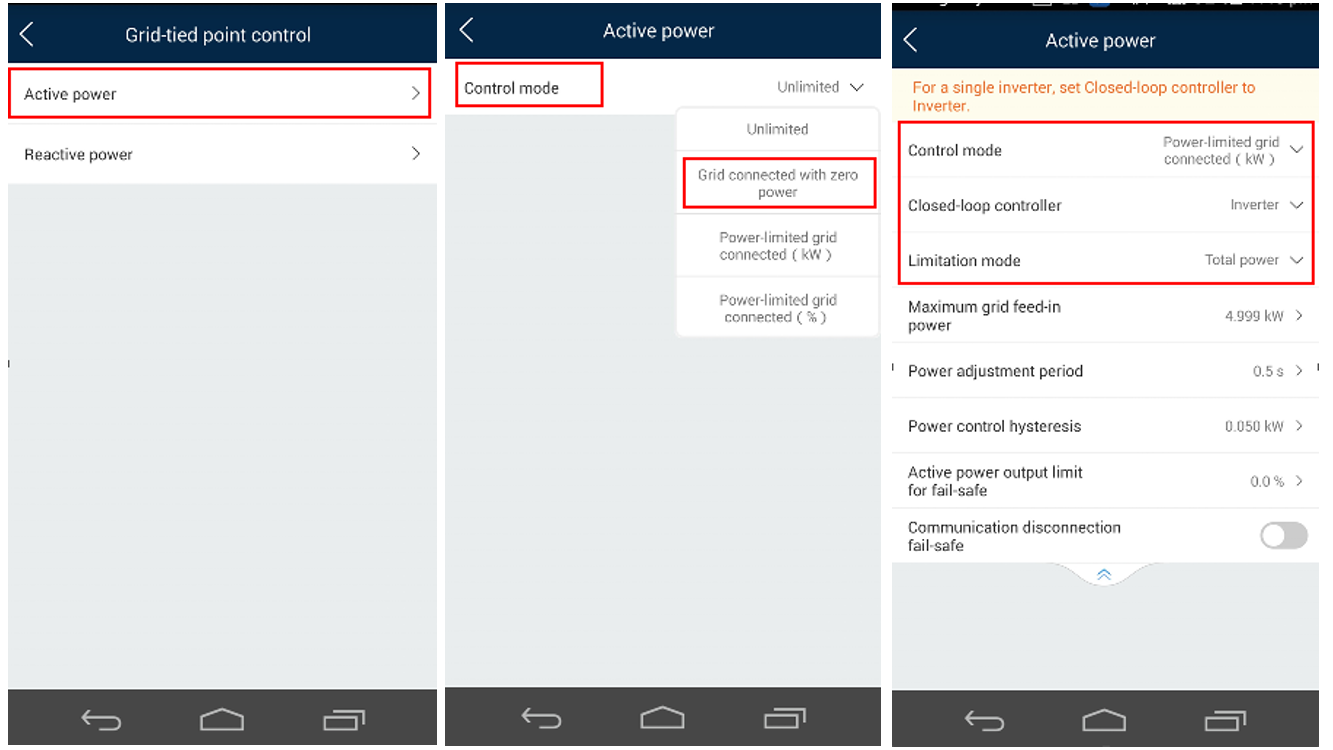 Limitation mode:
Total power - The inverter is limiting the total feed-in power based on all the phases combined, which means the combined production minus the combined consumption.
Single-phase Power - Each phase will be limited to 1/3 of the configured site limit, which means the feed-in power is the sum of the production minus the consumption of each phase.
List of the Smart Meters compatible with SUN2000 inverters in export limitation scenario